LF-AG80R
80mW Green Animation Laser Light
Remote Control, no ILDA
Above LF-AG500 Video for 500mW Animation Green Laser Light for Your Reference
Model: LF-AG80R
Description:
80mW Remote Control Green Animation Laser Light. Is it too much having to switch every time at the machine's back board for different control modes? We have a new solution for you! From now on, you don't have to stop what you are doing, or your graceful dancing, simply by click on the remote control, you'll be able to choose between different play modes, or run 6 basic patterns, or the preset animations. Or combine it with our wide range of Single Color or RGY laser lights, or a full color RGB Animation Laser Light, you'll be showing your guests with a spacious and exciting laser shows in a full range of colors.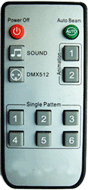 Features:
15K

high speed optical scanner

.
Built-in

128

different kinds of laser beam types and graphic patterns.

Sound active, auto-beam, auto-animation, DMX512(12 channels), master/slave, remote control. (no ILDA function)

It can do all things like blanking, frequently flashing, rotating, moving, billowing, zooming, drawing & etc.

It is designed both for the safety and for its good performance. The laser light will automatically shut down with no music under "Sound Active" mode; with no signal under "DMX512" mode; no signal when it is "Slave" under "Master/Slave" mode (over ten slave units applicable). This laser light is safe to the human body & to the environment.

It is perfect for DJs, Clubs, Bars, Pubs, Discos, KTVs, Bands and for family pleasures.
Remote Control Menu:
Power OFF: laser off

Auto Beam: auto beam show
SOUND: sound active mode (laser will turn off if there's no music)
DMX512: DMX512 signal (must put dipswitch #1 and #10 ON to receive signal)
Animation 1: auto animation show 1
Animation 2: auto animation show 2
Single Pattern:
1. waves
2. horizontal line loop moving up and down
3. vertical line loop moving left and right
4. tunnels zooming
5. squares zooming
6. five circles rotating
Diode Type:

DPSS Laser Diodes

Color:

Green

Wavelength:

532nm Green

Laser Output Power:

80mW

Beam Divergence Angle:

+/-30

Scanner:

15K Optical Scanner

Scanning Angle:

+/-30

Control/Play Mode:

Sound Active, AUTO-Beam, AUTO-Animation, DMX512, Master/Slave, Remote Control

DMX Channel:

12 Channels

Laser Effect:

Built-in 128 Different kinds of Beam types & Graphic patterns

Cooling System:

Cooling Fan

Power Consumption:

50W

Working Temperature:

10-40℃

Package Size:

330×320×225mm (L×W×H)

Gross Weight (including Packaging):

3KG

Packaging:

Firm Carton Box

Also in the Box:

Power Cable, User's Manual, Warranty Card

Safety Standard Apply to:

CE, ROHS

Warranty:

1 year

Product Handling Time:

immediately-3 days

Approx. Delivery Lead Time:

DHL 3-7days